Dinner Menu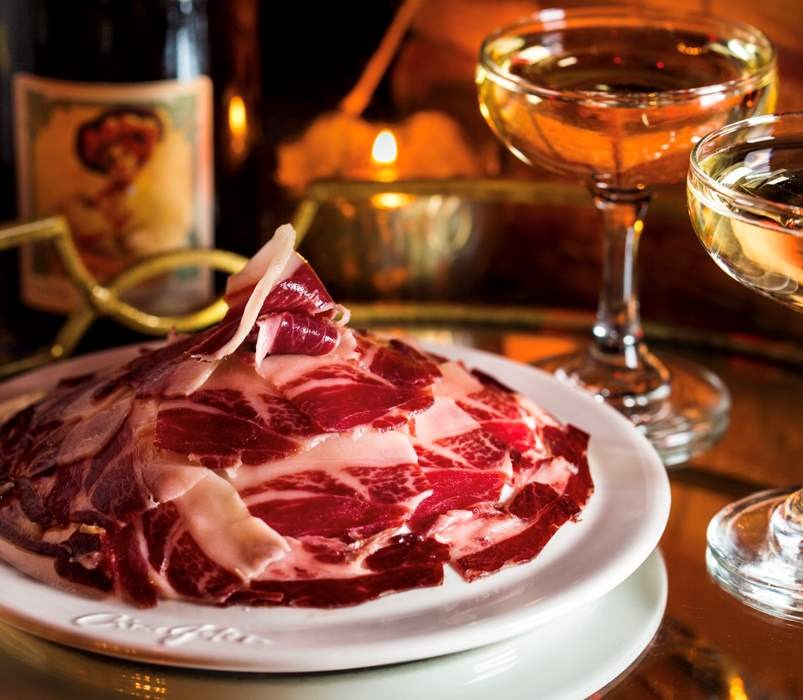 When your downstairs neighbor is one of the city's best Spanish restaurants — Mama Delia — late-night dining gets a major upgrade at Bordel.
A delicious selection of dishes from Mama Delia is available all night at Bordel.
SNACKS
PAN CON TOMATE
HOUSEMADE BREAD, FRESH TOMATO, SPANISH OLIVE OIL Vegan
JAMÓN & QUESO
IBÉRICO HAM, 12 MONTHS MANCHEGO Dairy
OSTRAS
FOUR WEST COAST OYSTERS, CAVA & CARROT ESCABECHE Gluten Free Shellfish
LANGOSTINOS
GULF SHRIMP, COLD POTATO SALAD, AVOCADO MAYO Eggs Fish Gluten Free Shellfish
SHISHITOS
SARDINE CONSERVA BRANDADE, HERB OIL, LEMON SEA SALT Fish Gluten Free
ANCHOVIES X BOQUERONES
PICKLED WHITE ANCHOVIES, CANTABRIAN CURED ANCHOVIES, CONFIT HEIRLOOM TOMATOES Fish Gluten Free Available
CROQUETAS
MUSHROOM CROQUETAS, SHERRY INFUSED FOIE MOUSSE Dairy Eggs
HUEVOS ROTOS
BAG OF POTATO CHIPS, JAMÓN IBÉRICO, FREE-RANGE EGG Dairy Eggs Gluten Free
PLANT BASED BOCADILLO
DRY AGED PLANT BASED CHORIZO, MARINATED VEGAN CHEESE, CONFIT ONIONS, PAN DE CRISTAL Vegan
GARDEN
ENSALADA
FARM GREENS, NECTARINES, PIMENTON SPICED WALNUTS Tree Nuts Vegetarian
ALCACHOFA
ARTICHOKE, ALMOND AJOBLANCO, SOY INFUSED HONEY Soy Tree Nuts Vegetarian
SETAS AL JEREZ
OYSTER MUSHROOMS, ASPARAGUS, AMONTILLADO Soy Vegetarian
TORTILLA
PROPERLY "UNDERCOOKED", FARM EGGS, UNI SABAYON Dairy Eggs
SEA
GAZPACHO
ATLANTIC CRAB, HEIRLOOM TOMATOES, CHERRIES Shellfish
SALPICÓN
ATLANTIC CRAB, BAY SCALLOPS, OCTOPUS, MUSSELS Fish Shellfish
TIRADITO DE ATÚN
YELLOWFIN TUNA, CITRUS ESCABECHE, CORN PUREE Fish
GAMBAS AL AJILLO
HEAD ON SHRIMP, SMOKED GARLIC, AJI ROCOTO Shellfish
ARROZ NEGRO
HEAD ON PRAWNS, SQUID INK, CUTTLEFISH, LEMON AIOLI Eggs Fish Shellfish
LAND
VIERAS XO
ATLANTIC SEA SCALLOPS, JAMÓN IBÉRICO XO SAUCE Dairy Eggs Shellfish Soy
TARTAR
DRY AGED IBÉRICO PORK, BOQUERONES, IDIAZABAL Dairy Eggs Fish
MAMA'S FLATBREAD
ROASTED HEIRLOOM TOMATO, MANCHEGO, 5JOTAS LOMO IBÉRICO, EVOO *MAKE VEGGIE BY SUBBING LOMO FOR MUSHROOMS Dairy
DÁTILES AHUMADOS
MEDJOOL DATES, GOAT CHEESE, SMOKED LAMB, MARKET VEGETABLES Dairy
FLAMENQUIN
CRISPY FREE RANGE CHICKEN, JAMÓN IBÉRICO, MANCHEGO, ARUGULA AIOLI Dairy Eggs
CHULETÓN
24 OZ DRY AGED ANGUS RIBEYE, BEEF FAT FRIES, CARAMELIZED PIQUILLO PEPPERS, SHISHITO PEPPERS
SWEETS
LECHE MERENGADA
HAZELNUT ICE CREAM, CANTALOUPE SHAVE ICE, BURNT CINNAMON MILK, DULCE DE LECHE Dairy Eggs Tree Nuts
TARTA VASCA
SAN SIMON CHEESE TOFFEE, MEMBRILLO & ONION CHUTNEY Dairy Eggs
BOCADILLO HELADO
CACAO NIB, SPANISH OLIVE OIL ICE CREAM, STAWBERRY, MARCONA ALMOND Dairy Eggs Tree Nuts
SORBETE
APRICOT& BLOOD ORANGE
-
A 3% merchant fee applies to credit card purchases; if paying with Cash, Debit or a Prepaid Card the fees are saved
-
CONSUMING RAW OR UNDERCOOKED MEATS, POULTRY, SEAFOOD, SHELLFISH OR EGGS MAY INCREASE YOUR RISK OF FOODBOURNE ILLNESS. IF YOU HAVE ANY FOOD ALLERGIES OR INTOLERANCES, PLEASE ALERT A MEMBER OF OUR TEAM PRIOR TO ORDERING.
-
DAIRY (D), EGGS (E), FISH (F), GLUTEN (G), PEANUTS (N), SESAME (SM), SHELLFISH (SF), PLANT BASED (PB), TREE NUTS (TN)